Rally for Assyrians in Iraq Held in England
Nov.-1-2008 20:4:48
Assyrian International News Agency
London -- A large number of Iraqis of all denominations, together with British citizens marched today to No. 10 Downing Street, London to submit a petition to the RH Prime Minister requesting Her Majesty's Government to act immediately to prevent further killings, persecution and eviction of the Iraqi Christians from Mosul and ultimately from Iraq.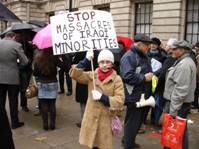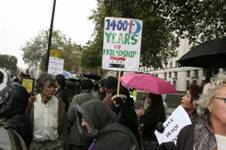 Citizens of Great Britain are encouraged to sign the following petition
The petition reads:
"We the undersigned petition the RH Prime Minister to demand from the Iraqi Government protection for Iraq's Christians, especially those who have recently fled the city of

Mosul

. We also ask for assistance for those who have fled, measures to ensure the safety of those who wish to return, and a full investigation into who is responsible for the murders."
An online petition has also been uploaded on the No.10 website.
Every British citizen or resident can sign the petition.